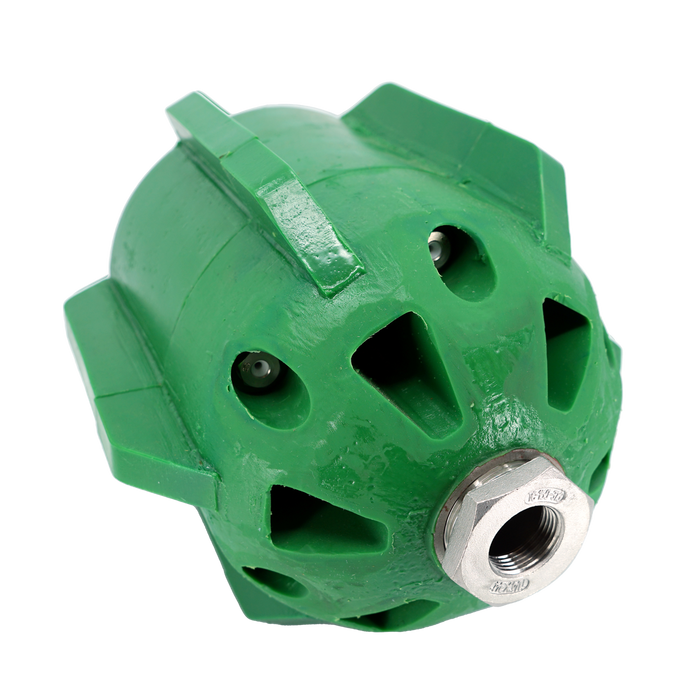 BL SWIPER® Green large
Article number
2-11676-C05-xx
Description
BL SWIPER® GREEN LARGE is recommended for pipe sizes from 300 mm up to 1200 mm (12"-48"), depending on available pump capacity. The BL SWIPER® GREEN LARGE is designed to work with clean water.
To assure the proper choice of BL SWIPER® for your work and your jetting truck specifications, always consult AquaTeq® technical sales staff or AquaTeq® authorized distributor. We put pride in supplying the right product, properly adapted to your truck specifications and your needs. When contacting us always make sure to have information about your high-pressure pump maximal water flowrate and maximal pressure as well as hose size and hose length.
If you are having problems with blowing toilets, we will happy to assist with technical and operating instructions how to work with the BL SWIPER® series of nozzles to avoid this situation. 
Technical Data
| | | | | | | | | | |
| --- | --- | --- | --- | --- | --- | --- | --- | --- | --- |
| 2-11676-C05-xx | 3/4" | 12" - 40" (300 - 1000 mm) | 150 l/min (40 US GPM) | 6 x 1/8" | 310 x 210 mm | 6,65 kg | No | 250 Bar (3625 PSI) | Without runners |
| 2-11676-C05-xx-01 | 3/4" | 12" - 40" (300 - 1000 mm) | 100 l/min (26 US PGM) | 6 x 1/8" | 310 x 230 mm | 10,25 kg | No | 250 Bar (3625 PSI) | With runners |
| 2-11676-C06-xx | 1" | 12" - 48" (300 - 1200 mm) | 150 l/min (40 US GPM) | 6 x 1/8" | 310 x 210 mm | 6,65 kg | No | 250 Bar (3625 PSI) | Without runners |
| 2-11676-C06-xx-01 | 1" | 12" - 48" (300 - 1200 mm) | 100 l/min (26 US PGM) | 6 x 1/8" | 310 x 230 mm | 10,25 kg | No | 250 Bar (3625 PSI) | With runners |
| 2-11676-C07-xx | 1 1/4" | 12" - 48" (300 - 1200 mm) | 150 l/min (40 US GPM) | 6 x 1/8" | 295 x 210 mm | 6,5 kg | No | 250 Bar (3625 PSI) | Without runners |
| 2-11676-C07-xx-01 | 1 1/4" | 12" - 48" (300 - 1200 mm) | 100 l/min (26 US PGM) | 6 x 1/8" | 295 x 230 mm | 10 kg | No | 250 Bar (3625 PSI) | With runners |
Recommended products
Original price

€0,00

-

Original price

€0,00

Our extender pipes for nozzles will reduce the risk of nozzle entering into laterals or turn in pipe. All our extension are made in stainless steel...

View full details