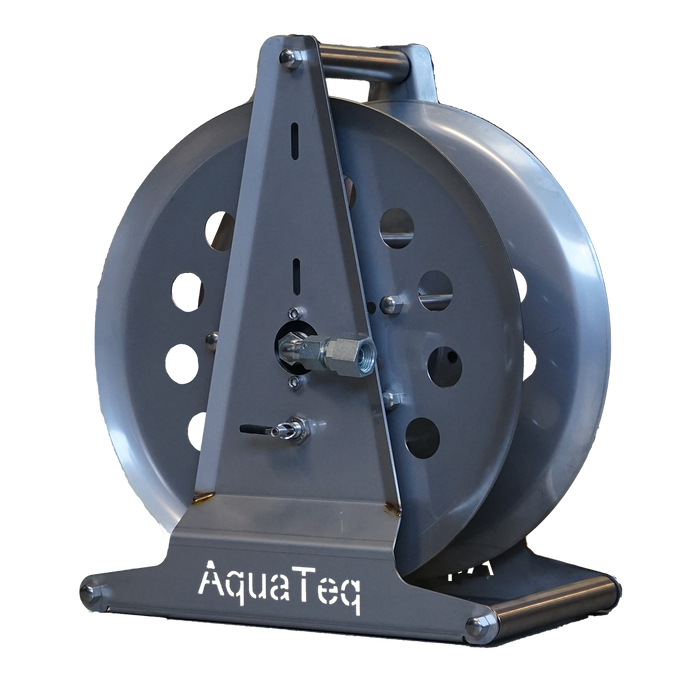 Description
Hose reels for cost effective and safe storage, transport and handling of hose.
We offer four different versions of hose reels. All made for efficient and flexible storage of hose. The reels are made out of stainless steel. The hose reels have a foldable handle, small rubber feet and a lock to keep the reel in place.
Hose, nozzle holder & nozzle is ordered separately and not included.
Technical Data
| | | | | | | |
| --- | --- | --- | --- | --- | --- | --- |
| 6-1720010 | 1/2″ or 3/8″ | 450 x 355 x 450 mm | 7 kg | STD Max. 275 Bar (350 and 500 bar swivels are available as option) | Can be supplied with quick coupling TEMA 3/8″ or 1/2″. | 90°C |
| 6-1720011 | 1/2″ or 3/8″ | 450 x 370 x 450 mm | 7,5 kg | STD Max. 275 Bar (350 and 500 bar swivels are available as option) | Can be supplied with quick coupling TEMA 3/8″ or 1/2″. | 90°C |
| 6-1720012 | 1/2″ or 3/8″ | 450 x 390 x 450 mm | 8 kg | STD Max. 275 Bar (350 and 500 bar swivels are available as option) | Can be supplied with quick coupling TEMA 3/8″ or 1/2″. | 90°C |
| 6-1720013 | 1/2″ or 3/8″ | - | - | STD Max. 275 Bar (350 and 500 bar swivels are available as option) | Can be supplied with quick coupling TEMA 3/8″ or 1/2″. | 90°C |