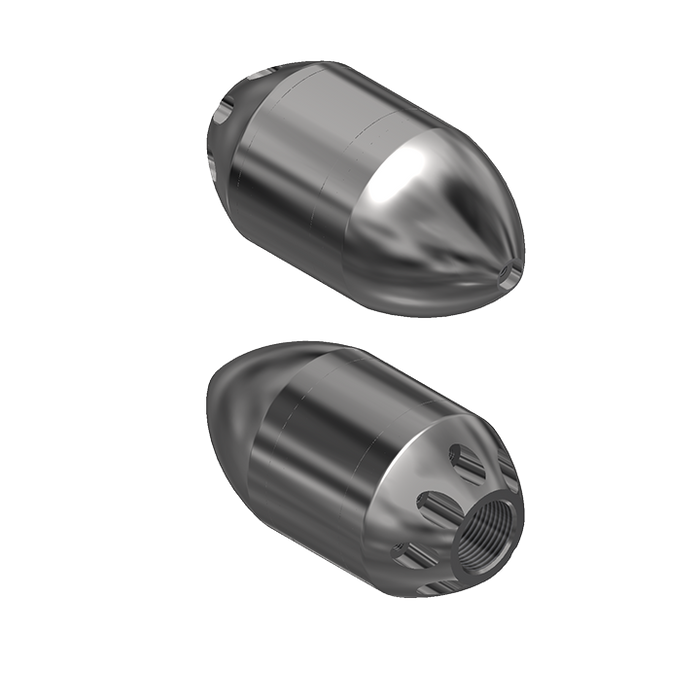 GOBLIN® 10° + 30°
Article number
2-11455-10-30-C04-GR-xx
Description
GOBLIN® 10˚ + 30˚ has a wide range of uses and can be seen as a "universal pipe cleaning nozzle". This is due to the combination of 10˚ and 30˚ angles on the thrusting rear jets. The thrusting water jets with 30˚ angle clean the inside of the pipe. At the same time the 10˚ jets effectively thrust the nozzle up the pipe, while they at the same time efficiently move the material downstream. By mounting a front jet, GOBLIN® 10˚ + 30 can also be used for clogs or to remove obstacles in front of the nozzle.

The GOBLIN® 10˚ + 30˚ is made in Sweden, like all AquaTeqs´ pipe cleaning nozzles and cutters, in durable, high-quality, hardened stainless steel. This means that the cleaning nozzle is suitable for both fresh and recycled water. When using recycled water, ceramic jet inserts must be mounted.

If GOBLIN® 10˚ + 30˚ is used together with a ½" hose, the nozzle is suitable for cleaning pipes from Ø100 - 300 mm (4" -12"). Together with ¾" hose, GOBLIN® 10˚ + 30˚ can be set up for higher water flow rate and is then suitable to clean pipes from Ø100mm up to 400 mm (4" -16").

Technical Data
| | | | | | | | | | | |
| --- | --- | --- | --- | --- | --- | --- | --- | --- | --- | --- |
| 2-11455-10-30-C04-GR-xx | 1/2" | 100 - 300 mm (4" - 12") | 60 l/min (16 us pgm) | 4 x M6 (10°) + 4 x M6 (30°) | - | 118 x 63 mm | 1,6 kg | Yes | 250 bar (3625 PSI) | Small |
| 2-11455-10-30-C04-HIT-xx | 1/2" | 100 - 300 mm (4" - 12") | 60 l/min (16 us pgm) | 4 x M6 (10°) + 4 x M6 (30°) | 1 x M6 | 118 x 63 mm | 1,6 kg | Yes | 250 bar (3625 PSI) | Small |
| 2-11455-10-30-C05-GR-xx | 3/4" | 100 - 400 mm (4" - 16") | 60 l/min (16 us pgm) | 4 x M6 (10°) + 4 x M6 (30°) | - | 118 x 63 mm | 1,6 kg | Yes | 250 bar (3625 PSI) | Small |
| 2-11455-10-30-C05-HIT-xx | 3/4" | 100 - 400 mm (4" - 16") | 60 l/min (16 us pgm) | 4 x M6 (10°) + 4 x M6 (30°) | 1 x M6 | 118 x 63 mm | 1,6 kg | Yes | 250 bar (3625 PSI) | Small |
| 2-11555-10-30-C05-GR | 3/4" | 150 - 400 mm (6" - 16") | 100 l/min (26.4 US GPM) | 4 x M6 (10°) + 4 x M6 (30°) | - | 170 x 80 mm | 3,3 kg | Yes | 250 bar (3625 psi) | Medium |
| 2-11555-10-30-C05-HIT | 3/4" | 150 - 400 mm (6" - 16") | 100 l/min (26.4 US GPM) | 4 x M6 (10°) + 4 x M6 (30°) | 1 x M6 | 170 x 80 mm | 3,3 kg | Yes | 250 bar (3625 psi) | Medium |
| 2-11455-10-30-C06-GR-xx | 1" | 100 - 400 mm (4" - 16") | 60 l/min (16 us pgm) | 4 x M6 (10°) + 4 x M6 (30°) | - | 90 x 60 mm | 1,9 kg | Yes | 250 bar (3625 PSI) | Small |
| 2-11455-10-30-C06-HIT-xx | 1" | 100 - 400 mm (4" - 16") | 60 l/min (16 us pgm) | 4 x M6 (10°) + 4 x M6 (30°) | 1 x M6 | 90 x 60 mm | 1,9 kg | Yes | 250 bar (3625 PSI) | Small |
| 2-11555-10-30-C06-GR | 1" | 150 - 400 mm (6" - 16") | 100 l/min (26.4 US GPM) | 4 x M6 (10°) + 4 x M6 (30°) | - | 160 x 80 mm | 3,2 kg | Yes | 250 bar (3625 psi) | Medium |
| 2-11555-10-30-C06-HIT | 1" | 150 - 400 mm (6" - 16") | 100 l/min (26.4 US GPM) | 4 x M6 (10°) + 4 x M6 (30°) | 1 x M6 | 160 x 80 mm | 3,2 kg | Yes | 250 bar (3625 psi) | Medium |
| 2-11555-10-30-C07-GR | 1 1/4" | 150 - 400 mm (6" - 16") | 100 l/min (26.4 US GPM) | 4 x M6 (10°) + 4 x M6 (30°) | - | 160 x 80 mm | 3,2 kg | Yes | 250 bar (3625 psi) | Medium |
| 2-11555-10-30-C07-HIT | 1 1/4" | 150 - 400 mm (6" - 16") | 100 l/min (26.4 US GPM) | 4 x M6 (10°) + 4 x M6 (30°) | 1 x M6 | 160 x 80 mm | 3,2 kg | Yes | 250 bar (3625 psi) | Medium |