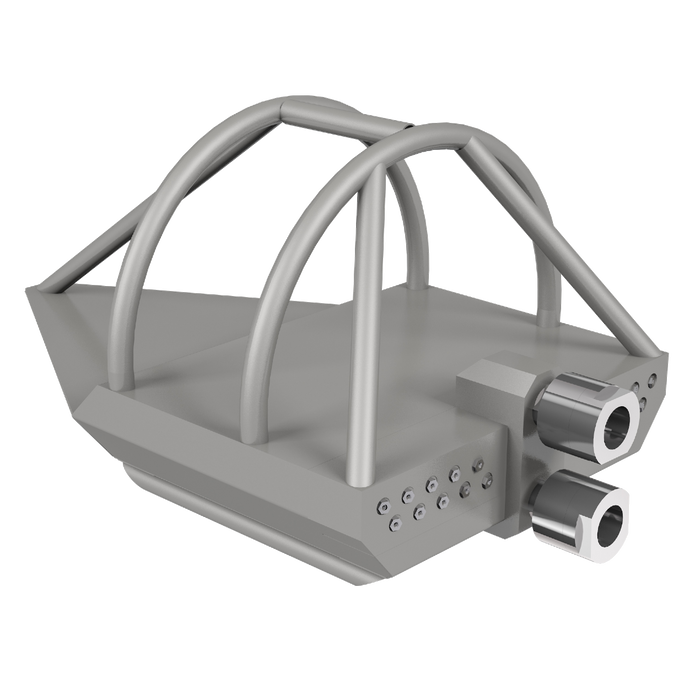 SUPER C-RAY®
Article number
2-11880-C07-1
Description
SUPER C-RAY® is designed for effective cleaning of larger pipes from Ø 900 mm (36″) up to 5 meters (200″).
SUPER C-RAY® is designed to handle extra wear from recycling water and the internal flow design minimize energy losses inside the nozzle. SUPER C-RAY® is equipped with replaceable wear runners that easily can be replaced.
Characteristics:
• Made of quality stainless steel
• Equipped with replaceable ceramic jets for perfect adaptation to flow and pressure of high-pressure pump(s)
• Low gravity center for correct position in pipe
• Interchangeable runners
• For all types of jetting trucks, including recycling
• If more water is needed, two jetting trucks can easily be connected to cleaning nozzle
• Supplied with one or two swivels.
Technical Data
| | | | | | | | | |
| --- | --- | --- | --- | --- | --- | --- | --- | --- |
| 2-11880-C07-1 | 1 x 1 1/4" | 900 - 5000 mm (36" - 200") | 500 l/min (140 US GPM) | 20 x 1/8" | 1030 x 550 x 480mm | 87 kg | Yes | 200 bar / 2900 PSI |
| 2-11880-C07-2 | 2 x 1 1/4" | 900 - 5000 mm (36" - 200") | 500 l/min (140 US GPM) | 20 x 1/8" | 1030 x 550 x 480mm | 90 kg | Yes | 200 bar / 2900 PSI |