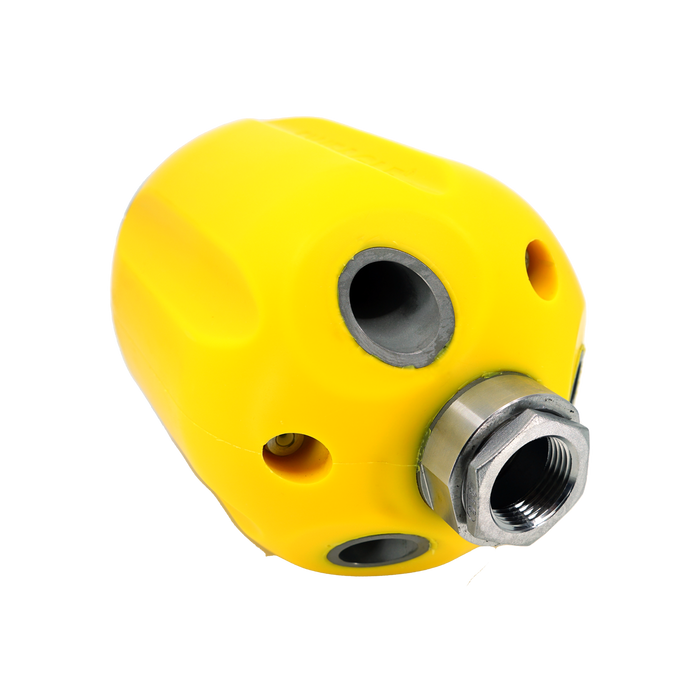 SWEAGLE®
Article number
2-11670-C06-xx
Description
SWEAGLE® performs extremely well in waterfilled as well as dry pipes. The secret lies in the advanced construction of the ejector system in the SWEAGLE®, which is patented. Owing to this fact, It is by far the most efficient nozzle on the market today. SWEAGLE® is designed to work with fresh water as well as recycled water.

The characteristics of SWEAGLE®:
It has a forceful and efficient ejector nozzle.
It removes sand, sludge and gravel.
It removes material all the way to the pipe wall.
It performs equally well in waterfilled pipes as in dry ones.

At AquaTeq® we always strive to improve our knowledge as well as the performance and efficiency of our products. This is a constant and always ongoing mission of ours, both with existing products as well as new development.
We listen and learn from our customers and their experiences, needs and knowledge. Our main goal is to always deliver optimized nozzles and milling cutters, perfectly customized according to the customers equipment. Our focus is to decrease the water and diesel usage per assignment to be able to considerably lower the total cost.
The market has for a long time lacked a flexible ejector nozzle which effectively uses the existing water in the pipe in combination with the waterpower from the jetting truck. SWEAGLE® works efficiently in waterfilled as well as dry pipes. The water jets reach all the way to the pipe wall and thereby easily removes all the material.

Technical Data
| | | | | | | | | |
| --- | --- | --- | --- | --- | --- | --- | --- | --- |
| 2-11670-C06-xx | 1" | Water Filled Pipe 250 mm - 1500 mm (10" - 60"), Regular Pipe Cleaning 250 mm - 800 mm (10" - 32") | 3 x 1/8" Ejector + 3 x 1/8" Cleaning Jets | 1 x 1/8" | 275 mm x 168 mm | 8,5 kg (19 lbs) | Yes | 250 bar (3625 psi) |
| 2-11670-C07-xx | 1 1/4" | Water Filled Pipe 250 mm - 1500 mm (10" - 60"), Regular Pipe Cleaning 250 mm - 800 mm (10" - 32") | 3 x 1/8" Ejector + 3 x 1/8" Cleaning Jets | 1 x 1/8" | 275 mm x 168 mm | 8,5 kg (19 lbs) | Yes | 250 bar (3625 psi) |