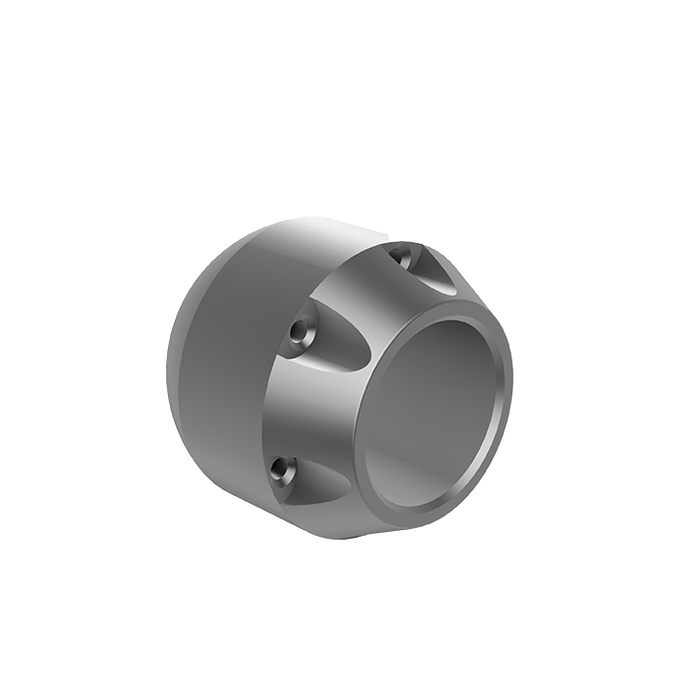 GLOBAL™ GROUND
Article number
2-11010S-07
Description
GLOBAL™ GROUND is our lightweight and compact everyday nozzle to be used to remove material in pipe such as sludge, sand, and minor stones.  This means the nozzle has no front jets. The nozzles are supplied with 4 or 6 rear jets. We use the same philosophy as for our high-end nozzles, meaning we design our nozzles with fewer rear jets with larger jet size, instead off many small holes, which only create weak and misty water jets.
GLOBAL™GROUND is made of harden steel or harden stainless steel and has a design that makes the nozzle perform more than well. With the low jet angle on thrusting rear jets GLOBAL™GROUND has no problem to travel fast and far up the pipe as well as brining lighter debris back.
GLOBAL™GROUND is a Tier 1 nozzle but offer a much better performance than can be expected due to the design. The round shape prevent nozzle from getting stuck in pipe.
The hose connection threads reach from ¼" up to 1 ¼". GLOBAL™GROUND supplied with the same hose connection, are made in several versions, all calculated for different water flowrates, to suit most pump capacities. In the list of nozzles, we state the water flowrate of each individual nozzle at a pressure of 100 Bar (1450 PSI) at the nozzle. If you need assistance to choose the nozzles best fitting your jetting pump and hose, we are happy to assist.
GLOBAL™GROUND with ¼" up to ½" thread can handle pump pressures up to 300 Bar (4350PSI).
GLOBAL™GROUND with 3/4" thread handles pump pressures up to 200 Bar (2900 PSI) and 1" up to 1 ¼" thread operates up to 150 Bar (2200PSI) at the nozzle.
Technical Data
| | | | | | | | | |
| --- | --- | --- | --- | --- | --- | --- | --- | --- |
| 2-11010S-07 | 1/8" | 25 - 75 mm (1" - 3") | 10 l/min (2.6 US PGM) | 5 x 0,7 mm | 17,5 x 16 mm | 0,01 kg | No | 350 bar (5000 PSI) |
| 2-11010S-10 | 1/8" | 25 - 75 mm (1" - 3") | 20 l/min (5 US GPM) | 5 x 1,0 mm | 17,5 x 16 mm | 0,01 kg | No | 350 bar (5000 PSI) |
| 2-11110-06 | 1/4″ | 32 – 100 mm (1 1/4″ – 4″) | 6 l/min (1.6 US GPM) | 4 x 0,6 mm | 21 x 20 mm | 0,03 kg | No | 300 bar (4350 PSI) |
| 2-11110-07 | 1/4″ | 32 – 100 mm (1 1/4″ – 4″) | 8 l/min (2.1 US GPM) | 4 x 0,7 mm | 21 x 20 mm | 0,03 kg | No | 300 bar (4350 PSI) |
| 2-11110S-10 | 1/4″ | 32 – 100 mm (1 1/4″ – 4″) | 17 l/min (4.4 US GPM) | 4 x 1,0 mm | 21 x 20 mm | 0,03 kg | No | 300 bar (4350 PSI) |
| 2-11110S-125 | 1/4″ | 32 – 100 mm (1 1/4″ – 4″) | 25 l/min (6 US GPM) | 4 x 1,25 mm | 21 x 20 mm | 0,03 kg | No | 300 bar (4350 PSI) |
| 2-11110S-15 | 1/4" | 40 – 110 mm (2″ – 4″) | 35 l/min (9 US GPM) | 4 x 1,5 mm | 21 x 20 mm | 0,03 kg | No | 300 bar (4350 PSI) |
| 2-11210-07 | 3/8″ | 40 – 150 mm (2″ – 6″) | 8 l/min (2.1 US GPM) | 4 x 0,7 mm | 26 x 25 mm | 0,045 kg | No | 300 bar (4350 PSI) |
| 2-11210S-11 | 3/8″ | 40 – 150 mm (2″ – 6″) | 20 l/min (5 US GPM) | 4 x 1,1 mm | 26 x 25 mm | 0,045 kg | No | 300 bar (4350 PSI) |
| 2-11210S-15 | 3/8″ | 40 – 150 mm (2″ – 6″) | 40 l/min (10 US GPM) | 4 x 1,5 mm | 26 x 25 mm | 0,045 kg | No | 300 bar (4350 PSI) |
| 2-11310S-15 | 1/2″ | 50 – 225 mm (2″ – 9″) | 40 l/min (10 US GPM) | 4 x 1,5 mm | 33 x 32 mm | 0,092 kg | No | 300 bar (4350 PSI) |
| 2-11310S-17 | 1/2″ | 50 – 225 mm (2″ – 9″) | 50 l/min (13 US GPM) | 4 x 1,7 mm | 33 x 32 mm | 0,092 kg | No | 300 bar (4350 PSI) |
| 2-11310S-20 | 1/2″ | 50 – 225 mm (2″ – 9″) | 70 l/min (18 US GPM) | 4 x 2,0 mm | 33 x 32 mm | 0,092 kg | No | 300 bar (4350 PSI) |
| 2-11310S-14S6 | 1/2" | 50 – 225 mm (2″ – 9″) | 47 l/min (12.4 US GPM) | 6 x 1,4 mm | 33 x 32 mm | 0,092 kg | No | 300 bar (4350 PSI) |
| 2-11310S-17S6 | 1/2" | 50 – 225 mm (2″ – 9″) | 70 l/min (18 US GPM) | 6 x 1,7 mm | 33 x 32 mm | 0,092 kg | No | 300 bar (4350 PSI) |
| 2-11310-20S6 | 1/2″ | 50 – 225 mm (2″ – 9″) | 100 l/min (26 US GPM) | 6 x 2,0 mm | 33 x 32 mm | 0,092 kg | No | 300 bar (4350 PSI) |
| 2-11410S-20 | 3/4″ | 75 – 300 mm (3″ – 12″) | 100 l/min (26 US GPM) | 6 x 2,0 mm | 43 x 40 mm | 0,197 kg | No | 200 bar (2900 PSI) |
| 2-11410S-24 | 3/4″ | 75 – 300 mm (3″ – 12″) | 150 l/min (40 US GPM) | 6 x 2,4 mm | 43 x 40 mm | 0,197 kg | No | 200 bar (2900 PSI) |
| 2-11510-27 | 1″ | 100 – 400 mm (4″ – 16″) | 190 l/min (50 US GPM) | 6 x 2,7 mm | 52 x 50 mm | 0,333 kg | No | 150 bar (2000 PSI) |
| 2-11510S-30 | 1″ | 100 – 400 mm (4″ – 16″) | 240 l/min (63 US GPM) | 6 x 3,0 mm | 52 x 50 mm | 0,333 kg | No | 150 bar (2000 PSI) |
| 2-11510-35 | 1″ | 100 – 400 mm (4″ – 16″) | 315 l/min (83 US GPM) | 6 x 3,5 mm | 52 x 50 mm | 0,333 kg | No | 150 bar (2000 PSI) |
| 2-11610S-30 | 1 1/4" | 100 - 400 mm (4" - 16") | 240 l/min (63 US PGM) | 6 x 3,0 mm | 65 x 63 mm | 0,69 kg | No | 150 bar (2175 PSI) |
| 2-11610S-35 | 1 1/4" | 100 - 400 mm (4" - 16") | 315 l/min (83.2 US GPM) | 6 x 3,5 mm | 65 x 63 mm | 0,69 kg | No | 150 bar (2175 PSI) |
| 2-11610S-40 | 1 1/4" | 100 - 400 mm (4" - 16") | 410 l/min (108.3 US GPM) | 6 x 4,0 mm | 65 x 63 mm | 0,69 kg | No | 150 bar (2175 PSI) |
Recommended products
Original price

€0,00

-

Original price

€0,00

Our extender pipes for nozzles will reduce the risk of nozzle entering into laterals or turn in pipe. All our extension are made in stainless steel...

View full details