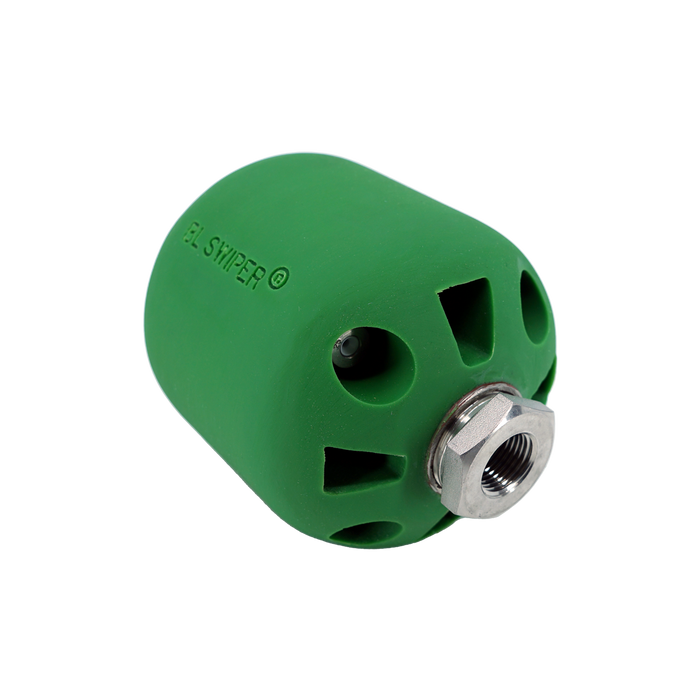 BL SWIPER® Green
Article number
2-11576-C04-xx
Description
BL SWIPER® GREEN is recommended for pipe sizes from 150 mm up to 600 mm (6"-24"), depending on the available pump capacity. The BL SWIPER® GREEN is designed to work with clean water.
The unique design of the BL SWIPER® series of pipe cleaning nozzles create the highest power at the lowest energy demand. This will decrease cleaning time, total water consumption and tear and wear on your jetting unit.
The effectiveness of a cleaning nozzle can be measured through the travelling time it needs from downstream manhole to upstream manhole. With the same travelling speed, the water jets, when retracting the nozzle, will move material faster and more effective to the downstream manhole. The inner design of the BL SWIPER® ensure long and well gather jets with incomparable cleaning and material moving power.
BL SWIPER® series of nozzles are extremely powerful. Always use extender pipe when possible, preventing nozzle from turning in pipe.
When BL SWIPER® nozzle is travelling up the pipe and getting close to the upstream manhole, slow down the feeding of the hose to prevent nozzle from jumping out of the manhole.
Technical Data
| | | | | | | | | |
| --- | --- | --- | --- | --- | --- | --- | --- | --- |
| 2-11576-C04-xx | 1/2" with adapter | 6" - 20" (150 - 500 mm) | 50 l/min (13 US GPM) | 4 x 1/8" | 163 x 112 mm | 1,7 kg | No | 250 Bar (3625 PSI) |
| 2-11576-C05-xx | 3/4" with adapter | 6" - 24" (150 - 600 mm) | 50 l/min (13 US GPM) | 4 x 1/8" | 161 x 112 mm | 1,7 kg | No | 250 Bar (3625 PSI) |
| 2-11576-C06-xx | 1" | 6" - 24" (150 - 600 mm) | 50 l/min (13 US GPM) | 4 x 1/8" | 152 x 112 mm | 1,6 kg | No | 250 Bar (3625 PSI) |
| 2-11576-C07-xx | 1 1/4" with adapter | 6" - 24" (150 - 600 mm) | 50 l/min (13 US GPM) | 4 x 1/8" | 200 x 112 mm | 2 kg | No | 250 Bar (3625 PSI) |
Recommended products
Original price

€0,00

-

Original price

€0,00

Our extender pipes for nozzles will reduce the risk of nozzle entering into laterals or turn in pipe. All our extension are made in stainless steel...

View full details