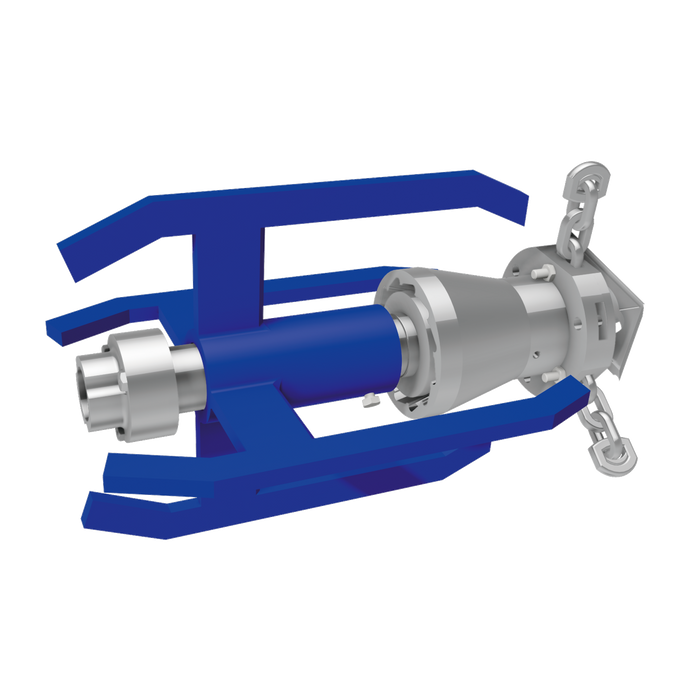 LUMBERJACK® LJ300
Article number
LJ300-C06-01
Description
The LUMBERJACK® cutters rotate at variable speed. Recommended working pressure is minimum 100 Bar (1450 PSI) at the cutter. Each model cleans the inside perimeter of the pipe, normally utilizing cutting links. The LUMBERJACK® cutters also have the feature of a removable front knife for severe blockages. Although it is designed to cut roots, many of our customers use it for cutting concrete, grease, mineral and chemical deposits, tuberculation, and protruding laterals.
LUMBERJACK®LJ300 is in one of our most popular cutters on the market and can be supplied with ¾",1" or 1 ¼" hose connection.
The LJ300 operates effectively already at 220 LPM (58 US GPM) and can handle pump pressures up to 250 Bar (3500 PSI). LJ300 operate in pipe sizes from 200mm (8") up to 800 mm (32").
There are two options of skid technologies for LUMBERJACK®LJ300. Either you work with firm sleds, available for 200,225,250,300,375,400,450,500 and 525 mm (8",9",10",12",15",16",18",20" and 21") pipes. If you prefer adjustable skids two options are available.  The small adjustable skid cover 200-375 mm (8"-15") pipes. The larger adjustable skid cover 400-700 mm (16"-28") pipes. With the large adjustable skid, we recommend using the expander plate with our large front knife. By using the expander plate the length of the cutting links can be reduced, with higher effectivity as a result.
Technical Data
| | | | | | | | | | |
| --- | --- | --- | --- | --- | --- | --- | --- | --- | --- |
| LJ300-C06-01 | 1" | 200|250 mm (8", 10") | 220 l/min (58 US GPM) | 3 x 1/8" | 6 x M6 | 670 X 550 X 700 mm | 44,8 kg | Yes | 200 bar (2900 PSI) |
| LJ300-C06-02 | 1" | 225|250 mm (9", 10") | 220 l/min (58 US GPM) | 3 x 1/8" | 6 x M6 | 670 X 550 X 700 mm | 46,1 kg | Yes | 200 bar (2900 PSI) |
| LJ300-C06-03 | 1" | 225|250|300 mm (9", 10", 12") | 220 l/min (58 US GPM) | 3 x 1/8" | 6 x M6 | 670 X 550 X 800 mm | 55 kg | Yes | 200 bar (2900 PSI) |
| LJ300-C06-04 | 1" | 225|250|400 mm (9", 10", 16") | 220 l/min (58 US GPM) | 3 x 1/8" | 6 x M6 | 670 X 550 X 800 mm | 59 kg | Yes | 200 bar (2900 PSI) |
| LJ300-C06-05 | 1" | 200|250|300|400 mm (8", 10", 12", 16") | 220 l/min (58 US GPM) | 3 x 1/8" | 6 x M6 | 670 X 550 X 800 mm | 67,8 kg | Yes | 200 bar (2900 PSI) |
| LJ300-C06-06 | 1" | 225|250 mm (9", 10") | 220 l/min (58 US GPM) | 3 x 1/8" | 6 x M6 | 670 X 550 X 400 mm | 46 kg | Yes | 200 bar (2900 PSI) |
| LJ300-C06-07 | 1" | 200|250|300|375 mm (9", 10", 12", 15") | 220 l/min (58 US GPM) | 3 x 1/8" | 6 x M6 | 670 X 550 X 400 mm | 49 kg | Yes | 200 bar (2900 PSI) |
| LJ300-C06-08 | 1" | 400|500|600|700 mm (16", 20", 24", 28") | 300 l/min (80 US GPM) | 3 x 1/8" | 6 x M6 | 670 X 550 X 900 mm | 35,5 kg | Yes | 200 bar (2900 PSI) |
| LJ300-C06-09 | 1" | 225|300|400|500|600|700 mm (9", 12", 16", 20", 24", 28") | 300 l/min (80 US GPM) | 3 x 1/8" | 6 x M6 | 670 X 550 X 800 mm | 66,6 kg | Yes | 200 bar (2900 PSI) |
| LJ300-C06-10 | 1" | 200|250|300|375|400|500|600|700 mm (8", 10", 12", 15", 16", 20", 24", 28") | 300 l/min (80 US GPM) | 3 x 1/8" | 6 x M6 | 670 X 550 X 800 mm | 67,4 kg | Yes | 200 bar (2900 PSI) |
| LJ300-C07-01 | 1 1/4" | 200|250 mm (8", 10") | 240 l/min (63 US PGM) | 3 x 1/8" | 6 x M6 | 670 X 550 X 400 mm | 44,7 kg | Yes | 200 bar (2900 PSI) |
| LJ300-C07-02 | 1 1/4" | 225|250 mm (9", 10") | 240 l/min (63 US PGM) | 3 x 1/8" | 6 x M6 | 670 X 550 X 700 mm | 46 kg | Yes | 200 bar (2900 PSI) |
| LJ300-C07-03 | 1 1/4" | 225|250|300 mm (9", 10", 12") | 240 l/min (63 US PGM) | 3 x 1/8" | 6 x M6 | 670 X 550 X 700 mm | 54,9 kg | Yes | 200 bar (2900 PSI) |
| LJ300-C07-04 | 1 1/4" | 225|300|400 mm (9", 12", 16") | 240 l/min (63 US PGM) | 3 x 1/8" | 6 x M6 | 670 X 550 X 800 mm | 58,9 kg | Yes | 200 bar (2900 PSI) |
| LJ300-C07-05 | 1 1/4" | 200|250|300|400 mm (8", 10", 12", 16") | 240 l/min (63 US PGM) | 3 x 1/8" | 6 x M6 | 670 X 550 X 800 mm | 67,7 kg | Yes | 200 bar (2900 PSI) |
| LJ300-C07-06 | 1 1/4" | 225|300 mm (9", 12") | 330 l/min (87 US GPM) | 3 x 1/8" | 6 x M6 | 670 X 550 X 400 mm | 46 kg | Yes | 200 bar (2900 PSI) |
| LJ300-C07-07 | 1 1/4" | 200|250|300|375 mm (8", 10", 12", 15") | 330 l/min (87 US GPM) | 3 x 1/8" | 6 x M6 | 670 X 550 X 400 mm | 48,9 kg | Yes | 200 bar (2900 PSI) |
| LJ300-C07-08 | 1 1/4" | 400|500|600|700 mm (16", 20", 24", 28") | 330 l/min (87 US GPM) | 3 x 1/8" | 6 x M6 | 670 X 550 X 700 mm | 35,4 kg | Yes | 200 bar (2900 PSI) |
| LJ300-C07-09 | 1 1/4" | 225|300|400|500|600|700 mm (9", 12", 16", 20", 24", 28") | 330 l/min (87 US GPM) | 3 x 1/8" | 6 x M6 | 670 X 550 X 800 mm | 67,5 kg | Yes | 200 bar (2900 PSI) |
| LJ300-C07-10 | 1 1/4" | 200|250|300|375|400|500|600|700 mm (8", 10", 12", 15", 16", 20", 24", 28") | 330 l/min (87 US GPM) | 3 x 1/8" | 6 x M6 | 670 X 550 X 800 mm | 67,25 kg | Yes | 200 bar (2900 PSI) |
Recommended products
Original price

€0,00

-

Original price

€0,00

The standard cutting links for LJ300 are made cut to length with outer link welded. For longer service lifetime and higher wear resistance cutting ...

View full details

Original price

€0,00

-

Original price

€0,00

LJ300 has many different sled options. Firm sleds are available for 200,225,250,300,375,400,450,500 and 525 mm (8", 9", 10", 12", 15", 16 ", 18", 2...

View full details

Original price

€0,00

-

Original price

€0,00