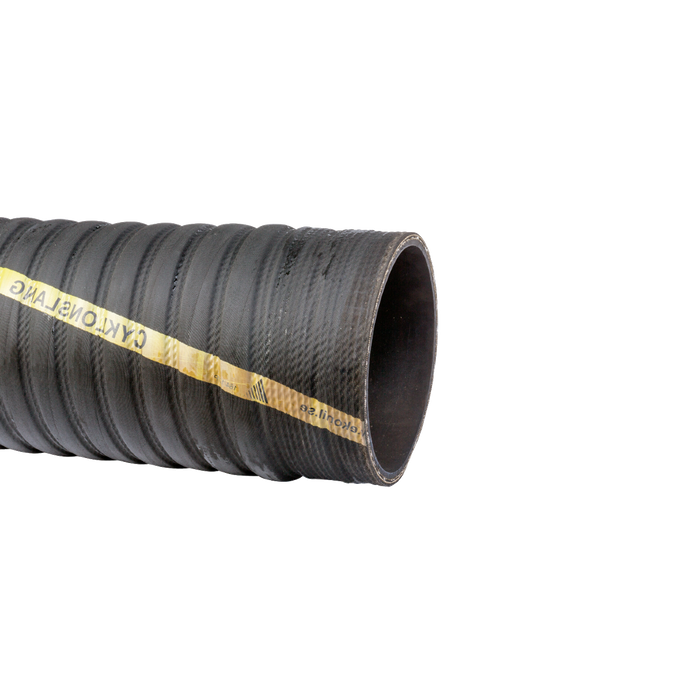 Cyclone Hose
Article number
8-80620318
Description
Very light and flexible suction hose for vacuum loaders. Supplied with sleeves, without helix.
Advantages:
• Very durable.
• Manufactured for industrial vacuum loading
trucks.
Technical description:
• Inner tube: Smooth SBR/NR rubber.
(thickness 5 mm).
• Reinforcement: Synthetic textile with embedded
steel helix.
• Cover: EPDM-rubber (Black, corrugated).
• Temperature range: -40°C to +80°C.
• Electrical properties: Double copper braids.
Technical Data
| | | | | |
| --- | --- | --- | --- | --- |
| 8-80620318 | 1,8 m | 203mm (8") | -40°C – +80°C | - |
| 8-80620302 | 2,0 m | 203mm (8") | -40°C – +80°C | - |
| 8-80620324 | 2,4 m | 203mm (8") | -40°C – +80°C | - |
| 8-80620326 | 2,6 m | 203mm (8") | -40°C – +80°C | - |
| 8-80620332 | 3,2 m | 203mm (8") | -40°C – +80°C | - |
| 8-80620372 | 7,2 m | 203mm (8") | -40°C – +80°C | Delivered without sleeves |