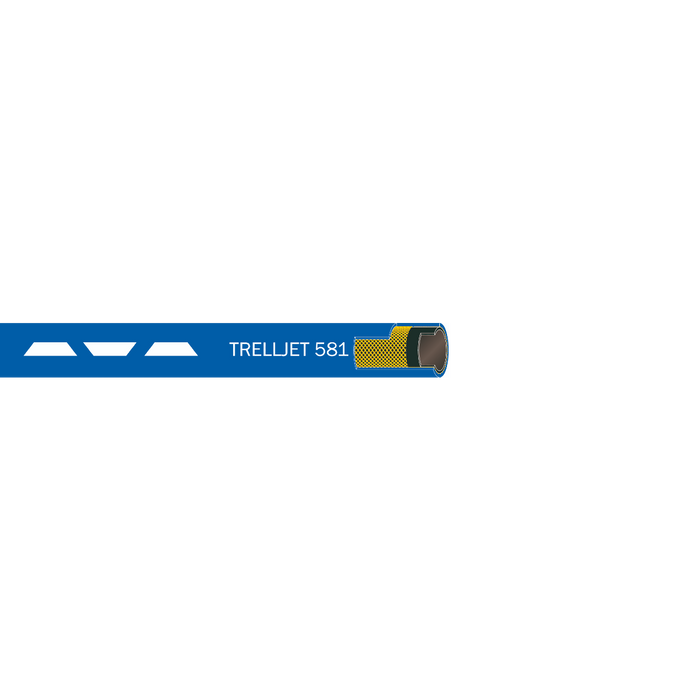 Description
Specially designed for professional and industrial high pressure cleaning. Efficient for machines, vehicles, floors, public areas, facades, etc. Suitable for mobile pressure washers, fixed installations and reel mounted applications.

Advantages
• Non-staining smooth cover (blue).
• Oil and detergent resistant.
• Wear and weather resistant.
• Light weight, flexible and kink resistant.
• Long service life.

Technical description
• Inner tube: NBR/SBR (black, smooth).
• Reinforcement: Steel, one braid.
• Cover: SBR/NBR (blue, smooth).
• Temperature range: -40°C to +60°C.
Technical Data
| | | | | | | | | |
| --- | --- | --- | --- | --- | --- | --- | --- | --- |
| 5-2861010 | 1/4″ | 10 m | 50 mm | 6,4 mm (1/4″) | 11,7 mm | 0,2 kg / m (2 kg) | 400 bar (5600 PSI) | -40°C – +60°C |
| 5-2861015 | 1/4″ | 15 m | 50 mm | 6,4 mm (1/4″) | 11,7 mm | 0,2 kg / m (3 kg) | 400 bar (5600 PSI) | -40°C – +60°C |
| 5-2861020 | 1/4″ | 20 m | 50 mm | 6,4 mm (1/4″) | 11,7 mm | 0,2 kg / m (4 kg) | 400 bar (5600 PSI) | -40°C – +60°C |
| 5-2861025 | 1/4″ | 25 m | 50 mm | 6,4 mm (1/4″) | 11,7 mm | 0,2 kg / m (5 kg) | 400 bar (5600 PSI) | -40°C – +60°C |
| 5-2861030 | 1/4″ | 30 m | 50 mm | 6,4 mm (1/4″) | 11,7 mm | 0,2 kg / m (6 kg) | 400 bar (5600 PSI) | -40°C – +60°C |
| 5-2861040 | 1/4″ | 40 m | 50 mm | 6,4 mm (1/4″) | 11,7 mm | 0,2 kg / m (8 kg) | 400 bar (5600 PSI) | -40°C – +60°C |
| 5-2861050 | 1/4″ | 50 m | 50 mm | 6,4 mm (1/4″) | 11,7 mm | 0,2 kg / m (10 kg) | 400 bar (5600 PSI) | -40°C – +60°C |
| 5-2861060 | 1/4″ | 60 m | 50 mm | 6,4 mm (1/4″) | 11,7 mm | 0,2 kg / m (12 kg) | 400 bar (5600 PSI) | -40°C – +60°C |
| 5-2861100 | 1/4″ | 100 m | 50 mm | 6,4 mm (1/4″) | 11,7 mm | 0,2 kg / m (20 kg) | 400 bar (5600 PSI) | -40°C – +60°C |
| 5-2861510 | 1/4″ | 10 m | 60 mm | 7,9 mm (5/16") | 13,4 mm | 0,2 kg / m (2 kg) | 400 bar (5600 PSI) | -40°C – +60°C |
| 5-2861515 | 1/4″ | 15 m | 60 mm | 7,9 mm (5/16") | 13,4 mm | 0,2 kg / m (3 kg) | 400 bar (5600 PSI) | -40°C – +60°C |
| 5-2861520 | 1/4″ | 20 m | 60 mm | 7,9 mm (5/16") | 13,4 mm | 0,2 kg / m (4 kg) | 400 bar (5600 PSI) | -40°C – +60°C |
| 5-2861525 | 1/4″ | 25 m | 60 mm | 7,9 mm (5/16") | 13,4 mm | 0,2 kg / m (5 kg) | 400 bar (5600 PSI) | -40°C – +60°C |
| 5-2861530 | 1/4″ | 30 m | 60 mm | 7,9 mm (5/16") | 13,4 mm | 0,2 kg / m (6 kg) | 400 bar (5600 PSI) | -40°C – +60°C |
| 5-2861535 | 1/4″ | 35 m | 60 mm | 7,9 mm (5/16") | 13,4 mm | 0,2 kg / m (7 kg) | 400 bar (5600 PSI) | -40°C – +60°C |
| 5-2861540 | 1/4″ | 40 m | 60 mm | 7,9 mm (5/16") | 13,4 mm | 0,2 kg / m (8 kg) | 400 bar (5600 PSI) | -40°C – +60°C |
| 5-2861550 | 1/4″ | 50 m | 60 mm | 7,9 mm (5/16") | 13,4 mm | 0,2 kg / m (10 kg) | 400 bar (5600 PSI) | -40°C – +60°C |
| 5-2861560 | 1/4″ | 60 m | 60 mm | 7,9 mm (5/16") | 13,4 mm | 0,2 kg / m (12 kg) | 400 bar (5600 PSI) | -40°C – +60°C |
| 5-2861600 | 1/4″ | 100 m | 60 mm | 7,9 mm (5/16") | 13,4 mm | 0,2 kg / m (20 kg) | 400 bar (5600 PSI) | -40°C – +60°C |
| 5-2862015 | 3/8" | 15 m | 70 mm | 9,5 mm (3/8") | 15,5 mm | 0,2 kg / m (3 kg) | 400 bar (5600 PSI) | -40°C – +60°C |
| 5-2862020 | 3/8" | 20 m | 70 mm | 9,5 mm (3/8") | 15,5 mm | 0,2 kg / m (4 kg) | 400 bar (5600 PSI) | -40°C – +60°C |
| 5-2862025 | 3/8" | 25 m | 70 mm | 9,5 mm (3/8") | 15,5 mm | 0,2 kg / m (5 kg) | 400 bar (5600 PSI) | -40°C – +60°C |
| 5-2862030 | 3/8" | 30 m | 70 mm | 9,5 mm (3/8") | 15,5 mm | 0,2 kg / m (6 kg) | 400 bar (5600 PSI) | -40°C – +60°C |
| 5-2862035 | 3/8" | 35 m | 70 mm | 9,5 mm (3/8") | 15,5 mm | 0,2 kg / m (7 kg) | 400 bar (5600 PSI) | -40°C – +60°C |
| 5-2862040 | 3/8" | 40 m | 70 mm | 9,5 mm (3/8") | 15,5 mm | 0,2 kg / m (8 kg) | 400 bar (5600 PSI) | -40°C – +60°C |
| 5-2862050 | 3/8" | 50 m | 70 mm | 9,5 mm (3/8") | 15,5 mm | 0,2 kg / m (10 kg) | 400 bar (5600 PSI) | -40°C – +60°C |
| 5-2862060 | 3/8" | 60 m | 70 mm | 9,5 mm (3/8") | 15,5 mm | 0,2 kg /m (12 kg) | 400 bar (5600 PSI) | -40°C – +60°C |
| 5-2862070 | 3/8" | 70 m | 70 mm | 9,5 mm (3/8") | 15,5 mm | 0,2 kg / m (14 kg) | 400 bar (5600 PSI) | -40°C – +60°C |
| 5-2862080 | 3/8" | 80 m | 70 mm | 9,5 mm (3/8") | 15,5 mm | 0,2 kg / m (16 kg) | 400 bar (5600 PSI) | -40°C – +60°C |
| 5-2862100 | 3/8" | 100 m | 70 mm | 9,5 mm (3/8") | 15,5 mm | 0,2 kg / m (20 kg) | 400 bar (5600 PSI) | -40°C – +60°C |
| 5-2863050 | 1/2" | 50 m | 80 mm | 12,7 mm (1/2") | 18,7 mm | 0,3 kg / m (15 kg) | 350 bar (5000 PSI) | -40°C – +60°C |
| 5-2863080 | 1/2" | 80 m | 80 mm | 12,7 mm (1/2") | 18,7 mm | 0,3 kg / m (24 kg) | 350 bar (5000 PSI) | -40°C – +60°C |
| 5-2863085 | 1/2" | 85 m | 80 mm | 12,7 mm (1/2") | 18,7 mm | 0,3 kg / m (25,5 kg) | 350 bar (5000 PSI) | -40°C – +60°C |
| 5-2863100 | 1/2" | 100 m | 80 mm | 12,7 mm (1/2") | 18,7 mm | 0,3 kg / m (30 kg) | 350 bar (5000 PSI) | -40°C – +60°C |
| 5-2863020 | 1/2" | 20 m | 80 mm | 12,7 mm (1/2") | 18,7 mm | 0,3 kg / m (6 kg) | 350 bar (5000 PSI) | -40°C – +60°C |