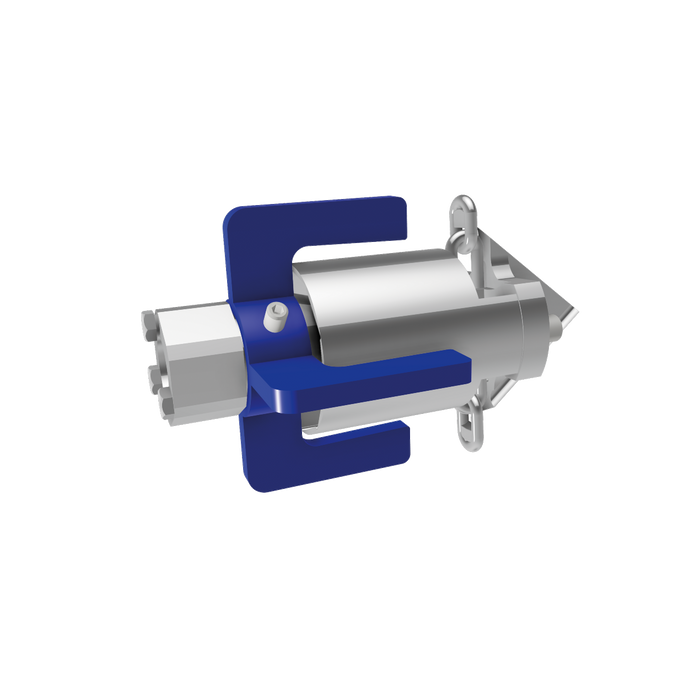 LUMBERJACK® LJ050
Article number
LJ050-C03-03
Description
LUMBERJACK®LJ050 is the smallest turbine cutter in the LUMBERJACK® series. LJ050 is the most powerful small cutter on the market. LJ050 cover pipe sizes from 75 mm (3") up to 150 mm (6") and is supplied complete in a kit. LJ050 can be supplied with ½" or ¾" hose connection. The cutter can operate effectively with as low water flow rate as 40 LPM (10 US GPM) and can handle pressures up to 250 Bar (3500 PSI).
Rotation speed of cutter is around 20 000 rpm in pipe and the material to be removed through cutting links reinforced with hardox. If material to be removed is in centre of the pipe the harden front knife, placed on top of the turbine engine, is used to open a path allowing the cutting links to do the rest of the work.
Each cutter is delivered adapted to your jetting van or jetting truck specifications, to optimize the performance resulting in the most effective cutting job.
The LUMBERJACK® is not a cutter that should be operated without a centralizing skid, unlike so many other cutters on the market. This is due to the power of the LUMBERJACK®. Sizing is the key word preparing your LUMBERJACK®. This means mounting the correct sled and the correct cutting link for the pipe size. Never use longer cutting link than recommended. A too long cutting link will only drag around the pipe, slowing down the rpm of the cutter, creating unnecessary wear as well as risking damaging the pipe or cutter getting stuck. The length of the cutting link, in a concrete pipe or other insensitive pipes, should at the start of the cutting job, be approx. 5 mm (1/5") longer than the largest diameter of the sled. If a cutting job is done in a more fragile pipe, make sure the cutting links are shorter than the max diameter of the sled, preventing them from touching pipe. Save used links for this type of applications. Pipe also needs to be straight. You find all important information in the operation manual.
As a special feature for the LUMBERJACK LJ050® are brush sleds supplied as spare. The brush sled let the cutter pass a 45- or 90-degree bend, still being centralized once cutter enter the straight line. Never put water pressure to cutter passing the bend. Push the cutter through the bend by hand and first when cutter has entered the straight line, the cutting operation can start.
Technical Data
| | | | | | | | | | |
| --- | --- | --- | --- | --- | --- | --- | --- | --- | --- |
| LJ050-C03-03 | 3/8" | 75|100|125|150 mm (3",4", 5", 6") | 45 l/min (11.8 US GPM) | 3 x M6 | 3 x M6 | 336 x 300 x 148 mm | 4,8 kg | Yes | 200 Bar (2900 PSI) |
| LJ050-C04-01 | 1/2" | 100|150 mm (4", 6") | 45 l/min (11.8 US GPM) | 3 x M6 | 3 x M6 | 336 x 300 x 148 mm | 4,1 kg | Yes | 200 Bar (2900 PSI) |
| LJ050-C04-02 | 1/2" | 100|125|150 mm (4", 5", 6") | 45 l/min (11.8 US GPM) | 3 x M6 | 3 x M6 | 336 x 300 x 148 mm | 4,5 kg | Yes | 200 Bar (2900 PSI) |
| LJ050-C04-03 | 1/2" | 75|100|125|150 mm (3",4", 5", 6") | 45 l/min (11.8 US GPM) | 3 x M6 | 3 x M6 | 336 x 300 x 148 mm | 4,1 kg | Yes | 200 Bar (2900 PSI) |
| LJ050-C05-01 | 3/4" | 100|150 mm (4", 6") | 45 l/min (11.8 US GPM) | 3 x M6 | 3 x M6 | 336 x 300 x 148 mm | 3,31 kg | Yes | 200 Bar (2900 PSI) |
| LJ050-C05-02 | 3/4" | 100|125|150 mm (4", 5", 6") | 45 l/min (11.8 US GPM) | 3 x M6 | 3 x M6 | 336 x 300 x 148 mm | 3,75 kg | Yes | 200 Bar (2900 PSI) |
| LJ050-C05-03 | 3/4" | 75|100|125|150 mm (3",4", 5", 6") | 45 l/min (11.8 US GPM) | 3 x M6 | 3 x M6 | 336 x 300 x 148 mm | 4,05 kg | Yes | 200 Bar (2900 PSI) |
Recommended products
Original price

€0,00

-

Original price

€0,00

Each sled for the LUMBERJACK®LJ050 can be bought as a spare. To handle the power of the cutter the skids are firm and made of cut and welded stainl...

View full details

Original price

€0,00

-

Original price

€0,00

Our LUMBERJACK®cutters are known for their quality and high efficiency. The quality includes not only long service lifetime but also low maintenanc...

View full details

Original price

€0,00

-

Original price

€0,00

The strength of the cutting links for LJ050, are developed to handle the power of the cutter. Use only chain supplied by manufacturer since other c...

View full details