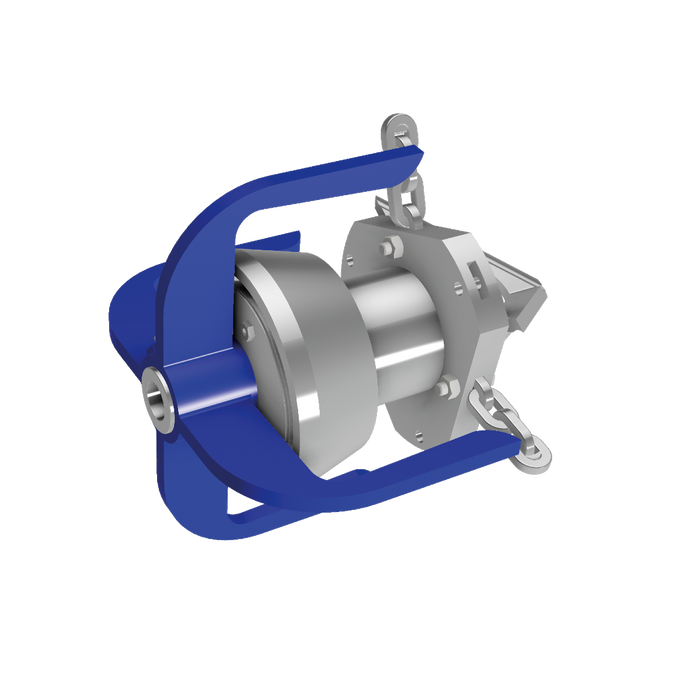 LUMBERJACK® LJ175
Article number
LJ175-C04-01
Description
LUMBERJACK®LJ175 is the largest cutter suitable for ½" hose. It can be supplied with not only ½" but also ¾" or 1" hose connection. The LJ175 operates effectively from 60 LPM (16 US GPM) and with pump pressures up to 150 Bar (2200 PSI). LJ175 cover pipe sizes from 150 mm (6") up to 300 mm (12") and is supplied as a kit according to your needs. 
The LJ175 is due to the design more powerful than the LJ075. If you do not have the need to cut 100 mm (4") pipes, the LJ175 can be the cutter of your choice.
The LUMBERJACK®LJ175 skids are firm and sized to give best performance in each individual pipe size.  The LUMBERJACK® should never be operated without a sled. Sizing is always the path to a successful cutting job. Always mount the correct sled and cutting links for the job. The length of the cutting link, in a concrete pipe or similar pipes, should when setting up the cutter for the job, be approx.5 mm (1/5") longer than the largest diameter of the sled used. If a cutting job must be done in PVC pipes or other more fragile materials, make sure cutting links are shorter than the max diameter of the sled avoiding the links from damaging pipe. We recommend saving your worn links for this type of application. Assure pipe is completely straight when working in fragile pipes to avoid pipe damage. You find all important operating instructions in the operation manual following each cutter supply.
Technical Data
| | | | | | | | | | |
| --- | --- | --- | --- | --- | --- | --- | --- | --- | --- |
| LJ175-C04-01 | 1/2" | 150|200 mm (6", 8") | 60 l/min (16 US GPM) | 4 x M6 | 3 x M6 | 570 x250 x 450 mm | 13,1 kg | Yes | 150 bar (2175 PSI) |
| LJ175-C04-02 | 1/2" | 150|225 mm (6", 9") | 60 l/min (16 US GPM) | 4 x M6 | 3 x M6 | 570 x250 x 450 mm | 13,2 | Yes | 150 bar (2175 PSI) |
| LJ175-C05-01 | 3/4" | 150|200 mm (6", 8") | 60 l/min (16 US GPM) | 4 x M6 | 3 x M6 | 570 x250 x 450 mm | 13,4 kg | Yes | 150 bar (2175 PSI) |
| LJ175-C05-02 | 3/4" | 150|225 mm (6", 9") | 60 l/min (16 US GPM) | 4 x M6 | 3 x M6 | 570 x250 x 450 mm | 13,4 kg | Yes | 150 bar (2175 PSI) |
| LJ175-C05-03 | 3/4" | 150|200|250 mm (6", 8", 10") | 60 l/min (16 US GPM) | 4 x M6 | 3 x M6 | 570 x250 x 450 mm | 15,1 kg | Yes | 150 bar (2175 PSI) |
| LJ175-C05-04 | 3/4" | 150|225|300 mm (6", 9", 12") | 60 l/min (16 US GPM) | 4 x M6 | 3 x M6 | 570 x250 x 450 mm | 16,6 kg | Yes | 150 bar (2175 PSI) |
| LJ175-C05-05 | 3/4" | 150|200|250|300 mm (6", 8", 10", 12") | 60 l/min (16 US GPM) | 4 x M6 | 3 x M6 | 570 x250 x 450 mm | 18,3 kg | Yes | 150 bar (2175 PSI) |
| LJ175-C06-01 | 1" | 150|200 mm (6", 8") | 60 l/min (16 US GPM) | 4 x M6 | 3 x M6 | 570 x250 x 450 mm | 13,9 kg | Yes | 150 bar (2175 PSI) |
| LJ175-C06-02 | 1" | 150|225 mm (6", 9") | 60 l/min (16 US GPM) | 4 x M6 | 3 x M6 | 570 x250 x 450 mm | 13,9 kg | Yes | 150 bar (2175 PSI) |
| LJ175-C06-03 | 1" | 150|200|250 mm (6", 8", 10") | 60 l/min (16 US GPM) | 4 x M6 | 3 x M6 | 570 x250 x 450 mm | 15,9 kg | Yes | 150 bar (2175 PSI) |
| LJ175-C06-04 | 1" | 150|225|300 mm (6", 9", 12") | 60 l/min (16 US GPM) | 4 x M6 | 3 x M6 | 570 x250 x 450 mm | 17,3 kg | Yes | 150 bar (2175 PSI) |
| LJ175-C06-05 | 1" | 150|200|250|300 mm (6", 8", 10", 12") | 60 l/min (16 US GPM) | 4 x M6 | 3 x M6 | 570 x250 x 450 mm | 19 kg | Yes | 150 bar (2175 PSI) |
Recommended products
Original price

€0,00

-

Original price

€0,00

The cutting links for LJ175 are adapted to the power of the cutter and the length of each link is made for optimal performance. The LJ175 use 3 pie...

View full details

Original price

€0,00

-

Original price

€0,00

You can always supplement your cutter with skids not included in your start package and as well as replacing worn skids. If adding a new sled size ...

View full details

Original price

€0,00

-

Original price

€0,00