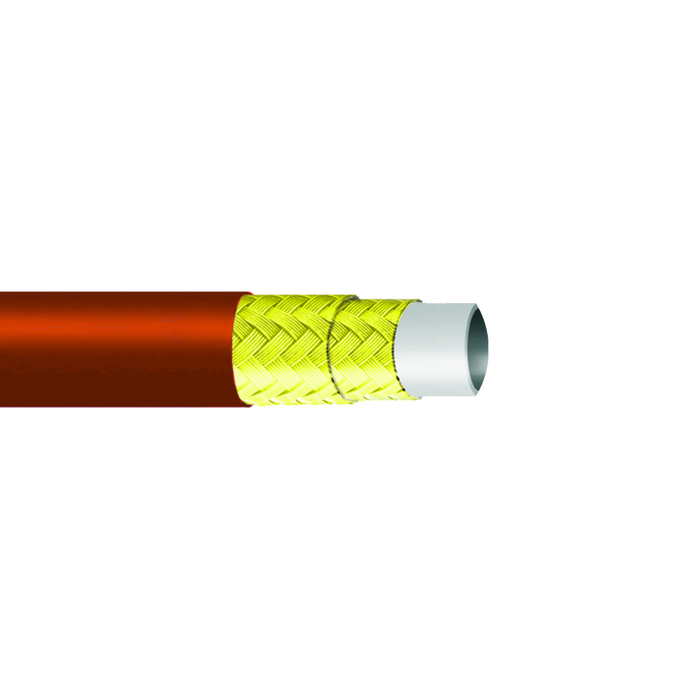 Sewer cleaning hose E-FLEX RED thermoplastic
Article number
5-EF308-10-010
Description
Sewer cleaning hose made of thermoplastic is an alternative to traditional rubber hose. Used for professional drain cleaning.
Advantages:
• Resistant to microbial degradation.
• Very low weight.
• High flexibility, even at low temperatures.
• Wear resistant.
Technical description:
• Inner tube: Polyurethane.
• Reinforcement: 1 layer of aramid.
• Cover: Polyurethane.
• Temperature range: -40°C to +60°C.
Technical Data
| | | | | | | | | |
| --- | --- | --- | --- | --- | --- | --- | --- | --- |
| 5-EF308-10-010 | 3/8" | 10 m | 70 mm | 9,6 mm (3/8") | 17 mm | 0,2 kg/m | 275 bar (3988 PSI) | -40°C – +60°C |
| 5-EF308-10-025 | 3/8" | 25 m | 70 mm | 9,6 mm (3/8") | 17 mm | 0,2 kg/m | 275 bar (3988 PSI) | -40°C – +60°C |
| 5-EF308-10-030 | 3/8" | 30 m | 70 mm | 9,6 mm (3/8") | 17 mm | 0,2 kg/m | 275 bar (3988 PSI) | -40°C – +60°C |
| 5-EF308-10-040 | 3/8" | 40 m | 70 mm | 9,6 mm (3/8") | 17 mm | 0,2 kg/m | 275 bar (3988 PSI) | -40°C – +60°C |
| 5-EF308-10-060 | 3/8" | 60 m | 70 mm | 9,6 mm (3/8") | 17 mm | 0,2 kg/m | 275 bar (3988 PSI) | -40°C – +60°C |
| 5-EF308-10-080 | 3/8" | 80 m | 70 mm | 9,6 mm (3/8") | 17 mm | 0,2 kg/m | 275 bar (3988 PSI) | -40°C – +60°C |
| 5-EF308-10-100 | 3/8" | 100 m | 70 mm | 9,6 mm (3/8") | 17 mm | 0,2 kg/m | 275 bar (3988 PSI) | -40°C – +60°C |
| 5-EF308-10-120 | 3/8" | 120 m | 70 mm | 9,6 mm (3/8") | 17,0 mm | 0,2 kg/m | 275 bar (3988 PSI) | -40°C – +60°C |
| 5-EF308-10-200 | 3/8" | 200 m | 70 mm | 9,6 mm (3/8") | 17 mm | 0,2 kg/m | 275 bar (3988 PSI) | -40°C – +60°C |
| 5-EF308-10-250 | 3/8" | 250 m | 70 mm | 9,6 mm (3/8") | 17 mm | 0,2 kg/m | 275 bar (3988 PSI) | -40°C – +60°C |
| 5-EF308-10-060-MM | 3/8" | 60 mm | 70 mm | 9,6 mm (3/8") | 17 mm | 0,2 kg/m | 275 bar (3988 PSI) | -40°C – +60°C |
| 5-EF308-10-080-MM | 3/8" | 80 m | 70 mm | 9,6 mm (3/8") | 17 mm | 0,2 kg/m | 275 bar (3988 PSI) | -40°C – +60°C |
| 5-EF308-10-100-MM | 3/8" | 100 m | 70 mm | 9,6 mm (3/8") | 17 mm | 0,2 kg/m | 275 bar (3988 PSI) | -40°C – +60°C |
| 5-EF308-13-50 | 1/2" | 50 m | 80 mm | 12,7 mm (1/2") | 20,6 mm | 0,22 kg/m | 275 bar (3988 PSI) | -40°C – +60°C |
| 5-EF308-13-150 | 1/2" | 150 m | 80 mm | 12,7 mm (1/2") | 20,6 mm | 0,22 kg/m | 275 bar (3988 PSI) | -40°C – +60°C |
| 5-EF308-13-060 | 1/2" | 60 m | 80 mm | 12,7 mm (1/2") | 20,6 mm | 0,22 kg/m | 275 bar (3988 PSI) | -40°C – +60°C |
| 5-EF308-13-080 | 1/2" | 80 m | 80 mm | 12,7 mm (1/2") | 20,6 mm | 0,22 kg/m | 275 bar (3988 PSI) | -40°C – +60°C |
| 5-EF308-13-100 | 1/2" | 100 m | 80 mm | 12,7 mm (1/2") | 20,6 mm | 0,22 kg/m | 275 bar (3988 PSI) | -40°C – +60°C |
| 5-EF308-13-120 | 1/2" | 120 m | 80 mm | 12,7 mm (1/2") | 20,6 mm | 0,22 kg/m | 275 bar (3988 PSI) | -40°C – +60°C |
| 5-EF308-13-040 | 1/2" | 40 m | 80 mm | 12,7 mm (1/2") | 20,6 mm | 0,22 kg/m | 275 bar (3988 PSI) | -40°C – +60°C |
| 5-EF308-13-050-MM | 1/2" | 50 m | 80 mm | 12,7 mm (1/2") | 20,6 mm | 0,22 kg/m | 275 bar (3988 PSI) | -40°C – +60°C |
| 5-EF308-13-060-MM | 1/2" | 60 m | 80 mm | 12,7 mm (1/2") | 20,6 mm | 0,22 kg/m | 275 bar (3988 PSI) | -40°C – +60°C |
| 5-EF308-13-080-MM | 1/2" | 80 m | 80 mm | 12,7 mm (1/2") | 20,6 mm | 0,22 kg/m | 275 bar (3988 PSI) | -40°C – +60°C |
| 5-EF308-13-100-MM | 1/2" | 100 m | 80 mm | 12,7 mm (1/2") | 20,6 mm | 0,22 kg/m | 275 bar (3988 PSI) | -40°C – +60°C |
| 5-EF308-13-120-MM | 1/2" | 120 m | 80 mm | 12,7 mm (1/2") | 20,6 mm | 0,22 kg/m | 275 bar (3988 PSI) | -40°C – +60°C |