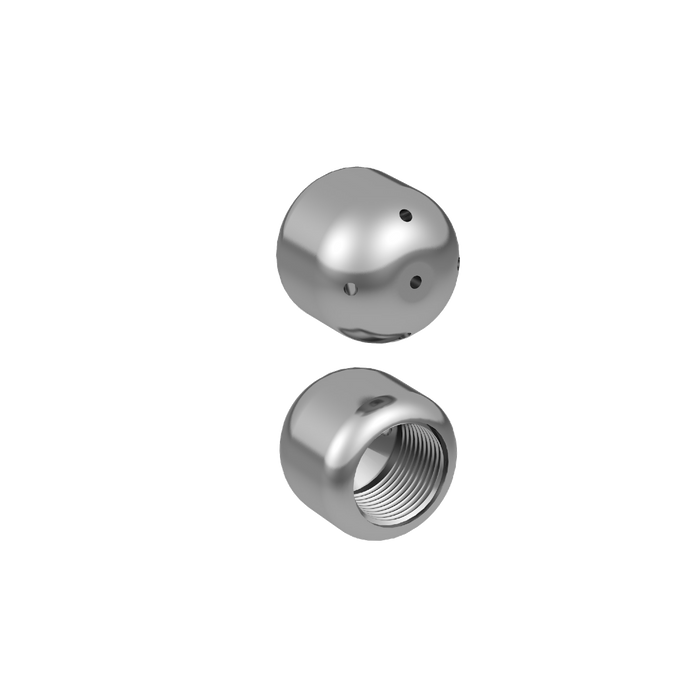 Standard nozzles Front
Article number
2-11007-10
Description
Many of our customers want to avoid getting water pushed out from pipe especially when performing pipe cleaning in houses and where pipe is clogged and there are limited possibilities for the water to travel anyway but through the access. If the sewer water overflow it will create extra job cleaning floors and other areas from the dirty water.
Our Standard Nozzles - Front are only supplied with front jet(s) and no thrusting rear jets to get around this problem. Once nozzle is mounted on the sewer cleaning hose, the nozzle is pushed by feeding the hose by hand, towards the obstacle. When nozzle reaches the clog, the high-pressure pump is activated, and all pressurized water will beat the clog. It is important to work with great precautions with these type of nozzles, due to risk of nozzle being pushed back once the water pressure is activated.
Our Standard Nozzles-Front are made of quality stainless steel. They have a smooth design making the nozzle close to same size as the outer diameter of the cleaning hose. This is in many cases a big advantage when nozzle must travel through bends or different pipe sizes to reach the obstacle and minimize the risk of getting stuck in pipe.
Technical Data
| | | | | | | | | |
| --- | --- | --- | --- | --- | --- | --- | --- | --- |
| 2-11007-10 | 1/8" | 20 - 75 mm (1" - 3") | 20 l/min (5 US GPM) | 5 x 1,0 mm | 11 x 12 mm | 0,01 kg | No | 250 bar (3500 PSI) |