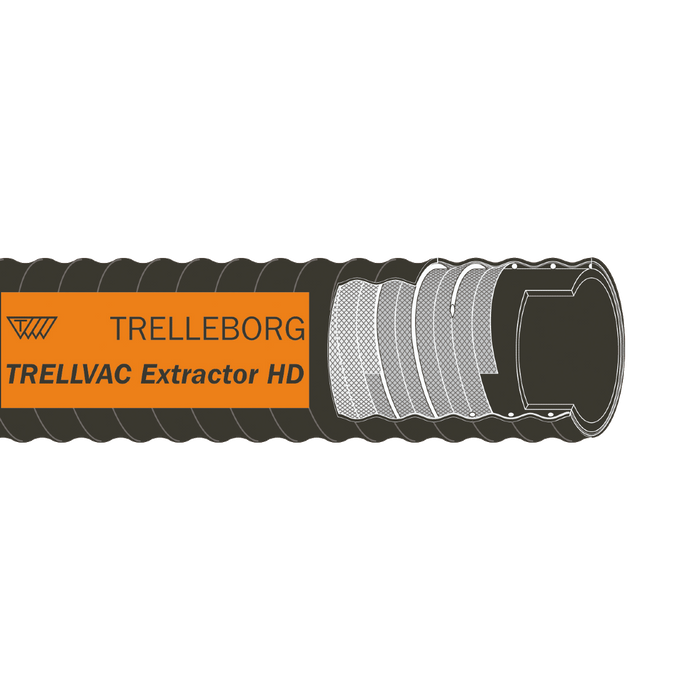 Description
Universal suction hose for dust, wood chips, small particles and various types of gas.

Advantages:
• Light and flexible.
• Excellent bending radius.
• Useful when low weight and easy handling are valued.

Technical description:
• Inner tube: wear resistant SBR/NR (black, smooth).
• Reinforcement: Synthetic textile with embedded steel helix.
• Cover: wear and weather resistant SBR/NR (black, corrugated).
• Temperature range: -40°C to +90°C.
• Electrical properties: Conductive tube and cover.
Technical Data
| | | | | | |
| --- | --- | --- | --- | --- | --- |
| 8-3010051 | 12 m | 75 mm | 51 mm (2″) | 60,5 mm | -40°C – +90°C |
| 8-3010063 | 12 m | 100 mm | 63 mm (2½″) | 73 mm | -40°C – +90°C |
| 8-3010076 | 12 m | 120 mm | 76 mm (3″) | 86 mm | -40°C – +90°C |
| 8-3010102 | 12 m | 150 mm | 102 mm (4″) | 113 mm | -40°C – +90°C |
| 8-3010127 | 12 m | 175 mm | 127 mm (5″) | 138 mm | -40°C – +90°C |
| 8-3010152 | 12 m | 200 mm | 152 mm (6″) | 163 mm | -40°C – +90°C |