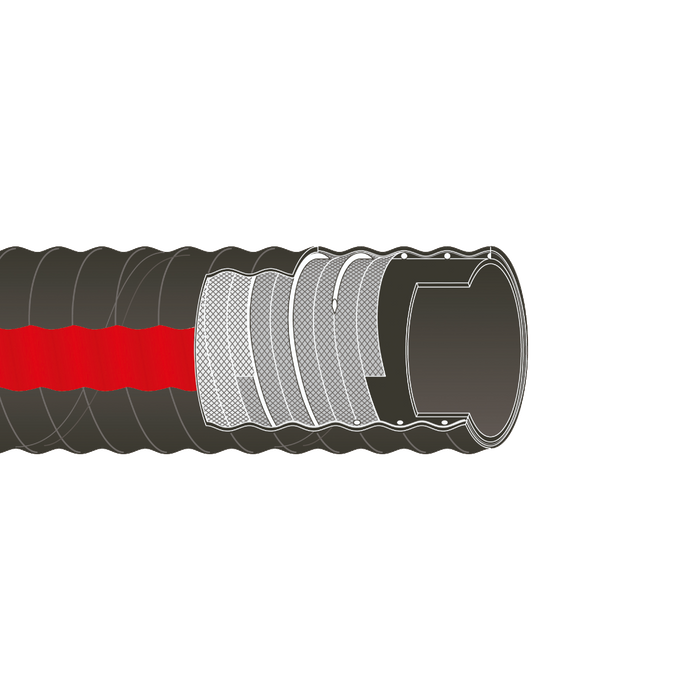 Description
Medium duty working hose for dry suction and vacuum trucks or for use at work site. TRELLVAC HANDLER MD is a working hose for pressure or vacuum for abrasive materialssuch as dust, stone shards, garvel, sand etc.

Advantages:
Light and flexible with good wear resistance.

Technical description:
• Inner tube: Wear resistant NR (black, smooth).
• Reinforcement: Synthetic textile, woven fabric with embedded steel helix.
• Cover: Wear and weather resistant SBR (black, corrugated).
• Temperature range: -30°C to +90°C.
• Electrical properties: Non-conductive tube.
Technical Data
| | | | | | | | | | |
| --- | --- | --- | --- | --- | --- | --- | --- | --- | --- |
| 8-1776690 | 3" | 12 m | 350 mm | 76 mm (3″) | 91 mm | 2 kg/m | 5 bar | -30°C – +90°C | ID4500 |
| 8-1776700 | 4" | 12 m | 400 mm | 102 mm (4″) | 118 mm | 2,9 kg/m | 5 bar | -30°C – +90°C | ID4500 |
| 8-1776705 | 5" | 12 m | 500 mm | 127 mm (5″) | 144 mm | 3,9 kg/m | 5 bar | -30°C – +90°C | ID4500 |
| 8-1776710 | 6" | 12 m | 600 mm | 152 mm (6″) | 167 mm | 4,5 kg/m | 5 bar | -30°C – +90°C | ID4500 |
| 8-1776720 | 8" | 12 m | 800 mm | 204 mm (8″) | 224 mm | 7 kg/m | 3 bar | -30°C – +90°C | ID4500 |