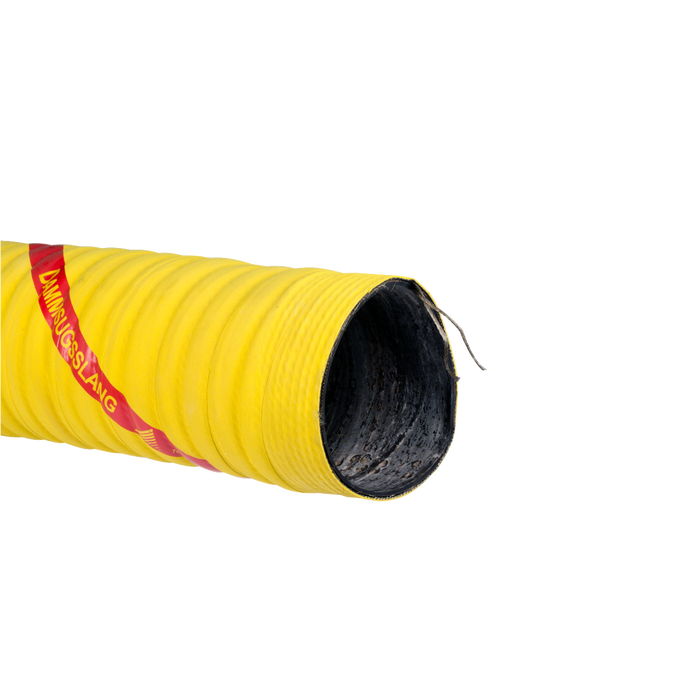 Working Hose Yellow - Light
Article number
8-80107610
Description
Flexible and light weight hose for vacuum loaders and transport of abrasive material.Supplied with soft sleeves.

Advantages:
• Low weight and high flexibility.
• Very easy to handle.

Technical description:
• Inner tube: Smooth black rubber.
• Reinforcement: Textile with embedded steel helix.
• Cover: Durable weatherproof EPDM (yellow, corrugated).
• Temperature range: -40 °C to + 80 °C.
• Electrical properties: Detached antistatic braid.
Technical Data
| | | | | | |
| --- | --- | --- | --- | --- | --- |
| 8-80107610 | 10m | 150 mm | 76 mm | 1,24 kg/m | -40°C – +80°C |
| 8-80110210 | 30m | 305 mm | 102 mm | 1,85 kg/m | -40°C – +80°C |
| 8-80110230 | 10m | 150 mm | 76 mm | 1,85 kg/m | -40°C – +80°C |
| 8-80112710 | 10m | 380 mm | 127 mm | 2,88 kg/m | -40°C – +80°C |
| 8-80115205 | 6m | 460mm | 152 mm | 3,82 kg/m | -40°C – +80°C |