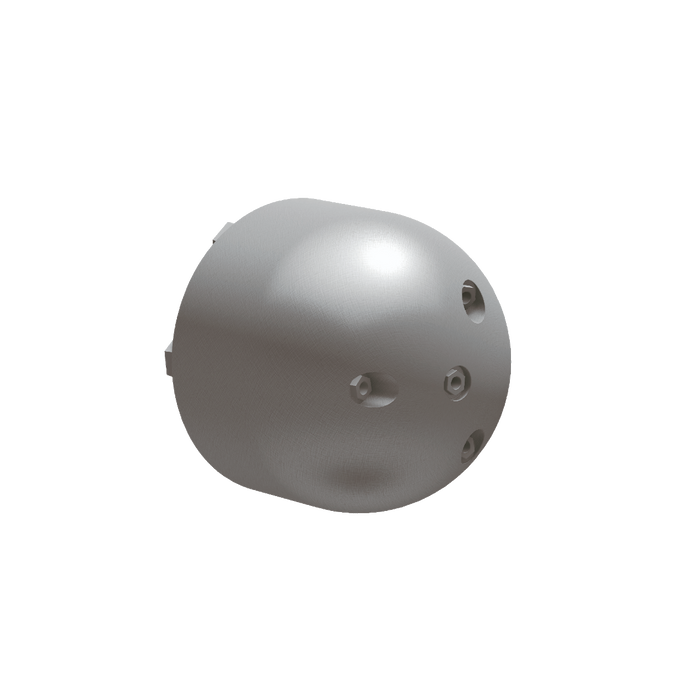 MULTI-GLOBAL®
Article number
2-11250S-GR-xx
Description
MULTI-GLOBAL® sewer penetrating nozzle is a spin off from our popular GLOBAL® series of nozzles but has replaceable orifices. MULTI-GLOBAL® sewer nozzle can be setup in multiple configurations. This sewer nozzle has a short design with a beveled
edge to get in those hard to reach spots. The pipe cleaning nozzle can be used with nozzle extensions or sleds.
Field of application:
General sewer cleaning, clogged pipes, cleaning of root packages before cutting etc.
Technical specification:
• Made of harden nickel coated steel.
• Replaceable jets made of harden stainless steel or ceramic.
• Four or six thrusting jets.
• Four front jets (can be plugged).
• For pipe inner diameter 40 – 400 mm (2″ – 16″).
• Hose connections ¼″ to 1 ¼″.
• Can be used with extension pipe or sled.
Technical Data
| | | | | | | | | | |
| --- | --- | --- | --- | --- | --- | --- | --- | --- | --- |
| 2-11250S-GR-xx | 3/8″ | 50 - 150 mm (2"-6") | 15 l/min (4 US GPM) | 4 x M4 (12°) | - | 32 x 32 mm | 0,12 kg | Yes | 500 Bar (7000 PSI) |
| 2-11250S-HIT-xx | 3/8″ | 50 - 150 mm (2"-6") | 15 l/min (4 US GPM) | 4 x M4 (12°) | 1 x M4 (0°) | 32 x 32 mm | 0,12 kg | Yes | 500 Bar (7000 PSI) |
| 2-11250S-ICE-xx | 3/8″ | 50 - 150 mm (2"-6") | 15 l/min (4 US GPM) | 4 x M4 (12°) | 3 x M4 (11°) + 1 x M4 (0°) | 32 x 32 mm | 0,12 kg | Yes | 500 Bar (7000 PSI) |
| 2-11350S-GR-xx | 1/2″ | 50-225 mm (2″-9″) | 30 l/min (8 US GPM) | 6 x M6 (10°) | - | 38 x 38 mm | 0,2 kg | Yes | 500 Bar (7000 PSI) |
| 2-11350S-HIT-xx | 1/2″ | 50-225 mm (2″-9″) | 30 l/min (8 US GPM) | 6 x M6 (10°) | 1 x M4 (0°) | 38 x 38 mm | 0,2 kg | Yes | 500 Bar (7000 PSI) |
| 2-11350S-ICE-xx | 1/2″ | 50-225 mm (2″-9″) | 30 l/min (8 US GPM) | 6 x M6 (10°) | 3 x M4 (10°) + 1 x M4 (0°) | 38 x 38 mm | 0,2 kg | Yes | 500 Bar (7000 PSI) |
| 2-11450S-GR-xx | 3/4" | 75 - 300 mm (3"-12") | 50 l/min (13 US GPM) | 6 x M6 (12°) | - | 50 x 48 mm | 0,45 kg | Yes | 300 Bar (4350 PSI) |
| 2-11450S-HIT-xx | 3/4" | 75 - 300 mm (3"-12") | 50 l/min (13 US GPM) | 6 x M6 (12°) | 1 x M6 (0°) | 50 x 48 mm | 0,45 kg | Yes | 300 Bar (4350 PSI) |
| 2-11450S-ICE-xx | 3/4" | 75 - 300 mm (3"-12") | 50 l/min (13 US GPM) | 6 x M6 (12°) | 3 x M6 (9°) + 1 x M6 (0°) | 50 x 48 mm | 0,45 kg | Yes | 300 Bar (4350 PSI) |
| 2-11550S-GR-JC | 1" | 100 - 300 mm (4"-12") | 70 l/min (19 US GPM) | 6 x M8 (12°) | - | 60 x 60 mm | 0,7 kg | Yes | 250 Bar (3625 PSI) |
| 2-11550S-HIT-JC | 1" | 100 - 300 mm (4"-12") | 70 l/min (19 US GPM) | 6 x M8 (12°) | 1 x M6 (0°) | 60 x 60 mm | 0,7 kg | Yes | 250 Bar (3625 PSI) |
| 2-11550S-ICE-JC | 1" | 100 - 300 mm (4"-12") | 70 l/min (19 US GPM) | 6 x M8 (12°) | 3 x M6 (9°) + 1 x M6 (0°) | 60 x 60 mm | 0,7 kg | Yes | 250 Bar (3625 PSI) |
| 2-11650S-GR-xx | 1 1/4″ | 125-400 mm (5-16″) | 75 l/min (19 US GPM) | 6 x 1/8″ (10°) | - | 80 x 80 mm | 2 kg | Yes | 250 Bar (3625 PSI) |
| 2-11650S-HIT-xx | 1 1/4″ | 125-400 mm (5-16″) | 75 l/min (19 US GPM) | 6 x 1/8″ (10°) | 1 x M6 (0°) | 80 x 80 mm | 2 kg | Yes | 250 Bar (3625 PSI) |
| 2-11650S-ICE-xx | 1 1/4″ | 125-400 mm (5-16″) | 75 l/min (19 US GPM) | 6 x 1/8″ (10°) | 3 x M6 (10°) + 1 x M6 (0°) | 80 x 80 mm | 2 kg | Yes | 250 Bar (3625 PSI) |
Recommended products
Original price

€0,00

-

Original price

€0,00

Our extender pipes for nozzles will reduce the risk of nozzle entering into laterals or turn in pipe. All our extension are made in stainless steel...

View full details